James Saddlery is a family owned and operated business. It was established by Trevor James, who has been making and designing Australian Stock Saddles for over 4 decades. Saddles designed and made by James Saddlery have been used Australia wide in some of the harshest conditions on the planet.
Most saddle makers have junior hands that work on the production of saddles, but at James Saddlery this just does not happen. Trevor and his son, Daniel James, personally make each and every saddle. They know that the success of their saddles is dependent on quality. Each and every saddle that is made is an advertisement for our product and as such, must be a work of art that will last a lifetime.
Bev James and daughter are the heartbeat of the business. Thanks to Rhianna's expertise with computers, we are able to update our website and provide you with the latest innovation. New product is added daily with quality and pricing at its most competitive.
In Australia, the working stockmen and stock horse are still in use, even though helicopters and motorcycles have been utilised to muster the huge cattle properties operating in Australia's outback. The saddles made by Trevor James have been used by working stockmen over several decades, representing millions of hours of real life testing. They have stood this test of time and have become a testament to the strength and durability built into each and every saddle made by James Saddlery.
Trevor James started exporting saddles to the USA around 20 years ago and they were, for many years, sold through various distributors.
In an effort to make the genuine Australian made Stock Saddles affordable, the middle man or distributor has now been eliminated in the US. Trevor James now offers his own range of hand made saddles, along with those made by Paul Hill of Syd Hill and Sons and those saddles Trevor has made overseas.
This means you, the buyer, can now have a true Australian Stock Saddle from a genuine Australian saddle maker at the best price world wide.
THE BEST FROM AUSTRALIA JUST GOT AFFORDABLE!
Trevor James has pioneered many new saddle and saddle tree designs and his ability to recognise and adopt new materials have revolutionised the Australian Stock Saddle.
The Australian Stock Saddle is the true icon of this ever-evolving story and will continue to be the safest, strongest, lightest and most comfortable saddle in the world thanks to the efforts of genuine Australian saddle makers like Trevor James.
Above: Trevor and Son, Daniel inspecting a saddle before being packed for shipment.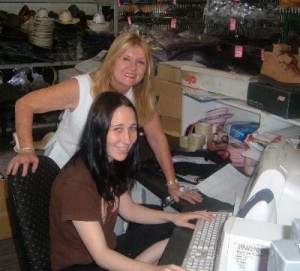 Above: The Office Staff, Bev James & Rhianna Kling
IT IS THE AUSTRALIAN STOCK SADDLE.
James Saddlery is not a franchise store. We do not buy through a head office or agent. We design and make our own saddles. All of our other items are our own label and designed by Trevor James. The things we do not make or design we import directly from the maker. This no middle man approach means savings for you, the customer.
The Store