12/06/2018
Bought a Colt Revolver saddle at Farm Fest this year. The saddle has a flex fit tree which is outstanding. It moves with the horse. The seat is so comfortable you would think you were in a lounge chair! I have just ridden a full day in this saddle- brand new- in super steep country. My butt is not sore, but the bloke I rode with has a very sore butt! I used to ride in a Cliff Killeen stock saddle and I would recommend this James saddle to anyone. In fact, I am going to buy 3 more saddles for my family. Economical and bloody good people!!!
—
Regards,
Chris Collins
______________________________________________________________________
I received the saddle today.
I'm absolutely thrilled. My prior stock saddle was decent but it is nothing compared to yours. I am floored at the quality and comfort. Who knew you could have such a comfortable saddle! It fits like a glove and I didn't have to adjust a thing. Perfect right out of the box.
Thank you so very much. I look forward to sending business your way
-Morgan
______________________________________________________________________
Hi  Trevor, just want to say the saddle is beautiful. The leather seat is really nice and size is great. Feels much better to sit in with narrower width. Havent had a ride in it yet, but the length is much better on my horses back too. Its beautifully finished with all the details. Nice Colour. Thank you 🙂
-Alicia
______________________________________________________________________
Hi Trevor — I just wanted to thank you for such a wonderful job on the new saddle. It has taken a couple of weeks to get completely comfortable but I'm settling in to it. It has taken a bit of an adjustment, a lower posting trot so that I don't hit the poleys, for instance. I still haven't quite found the right pad for it but I will. I should have taken a pic of horse/saddle to show you how great it looks on my buckskin but someone snapped this one on this weekend's ride — it looks nice. I'm very proud to own it and hope to get you a couple of additional orders! Thanks again – Deborah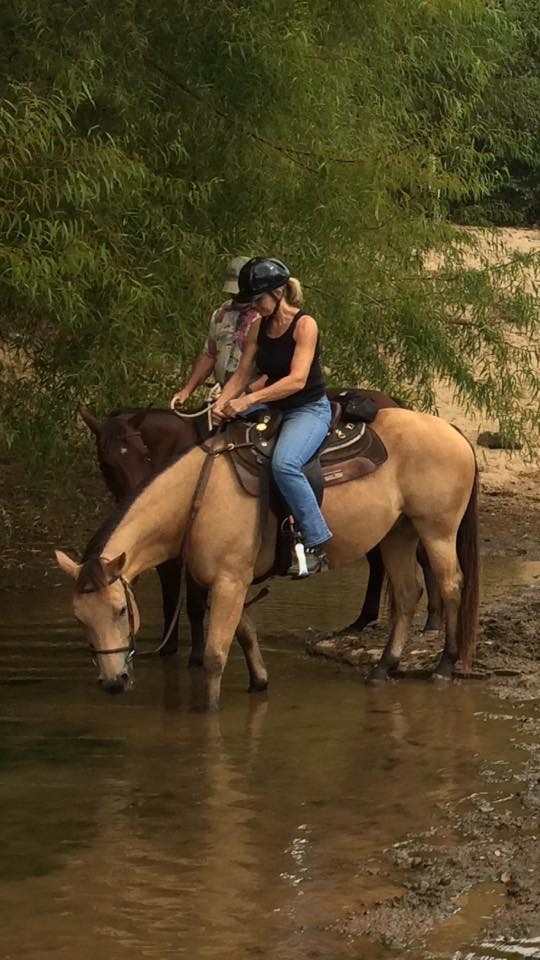 ---
Hi james , love my saddle . Ive added some bling to it ?
---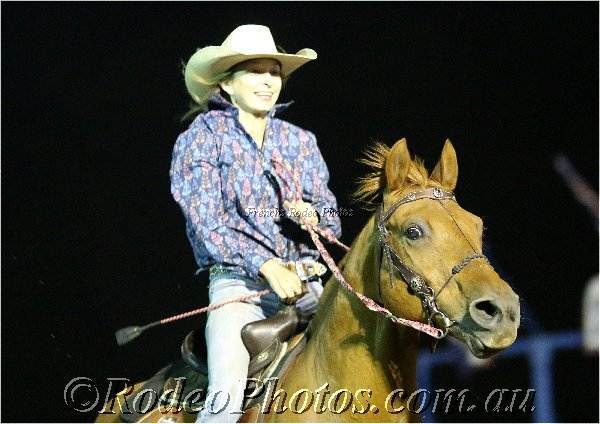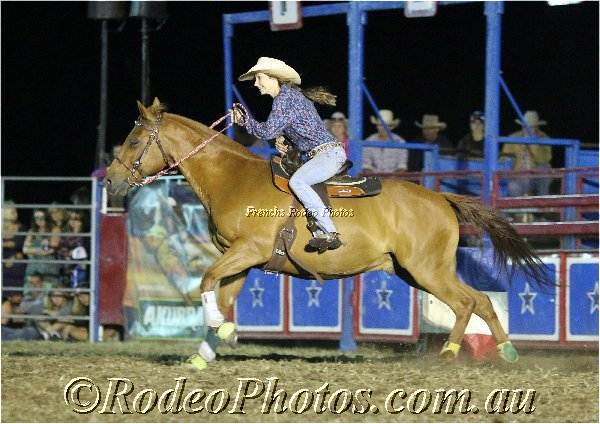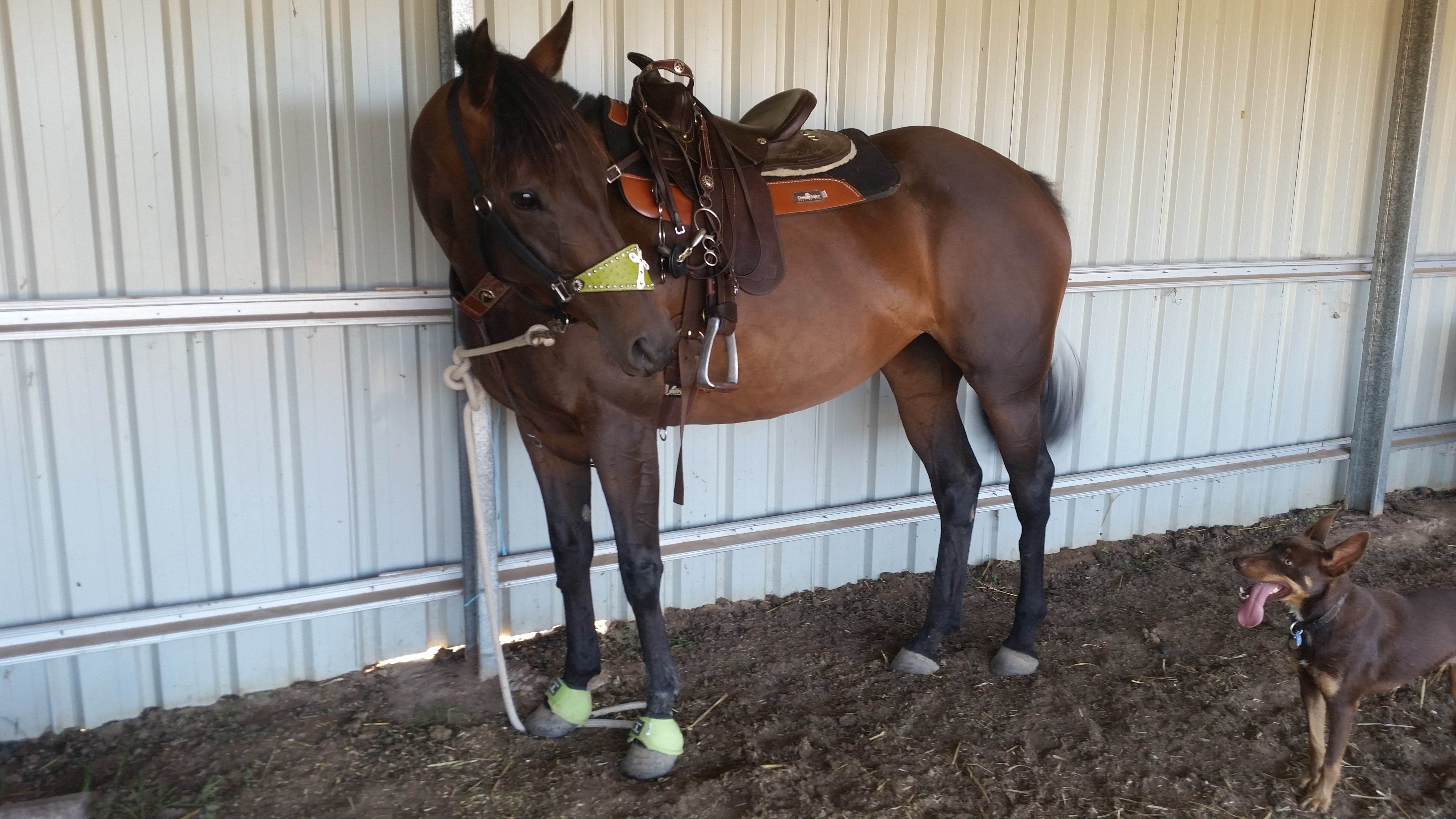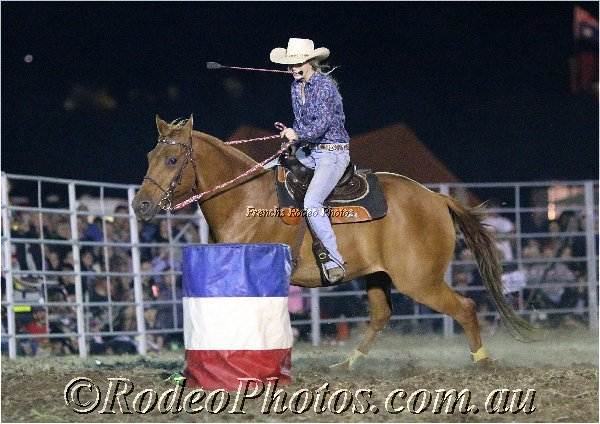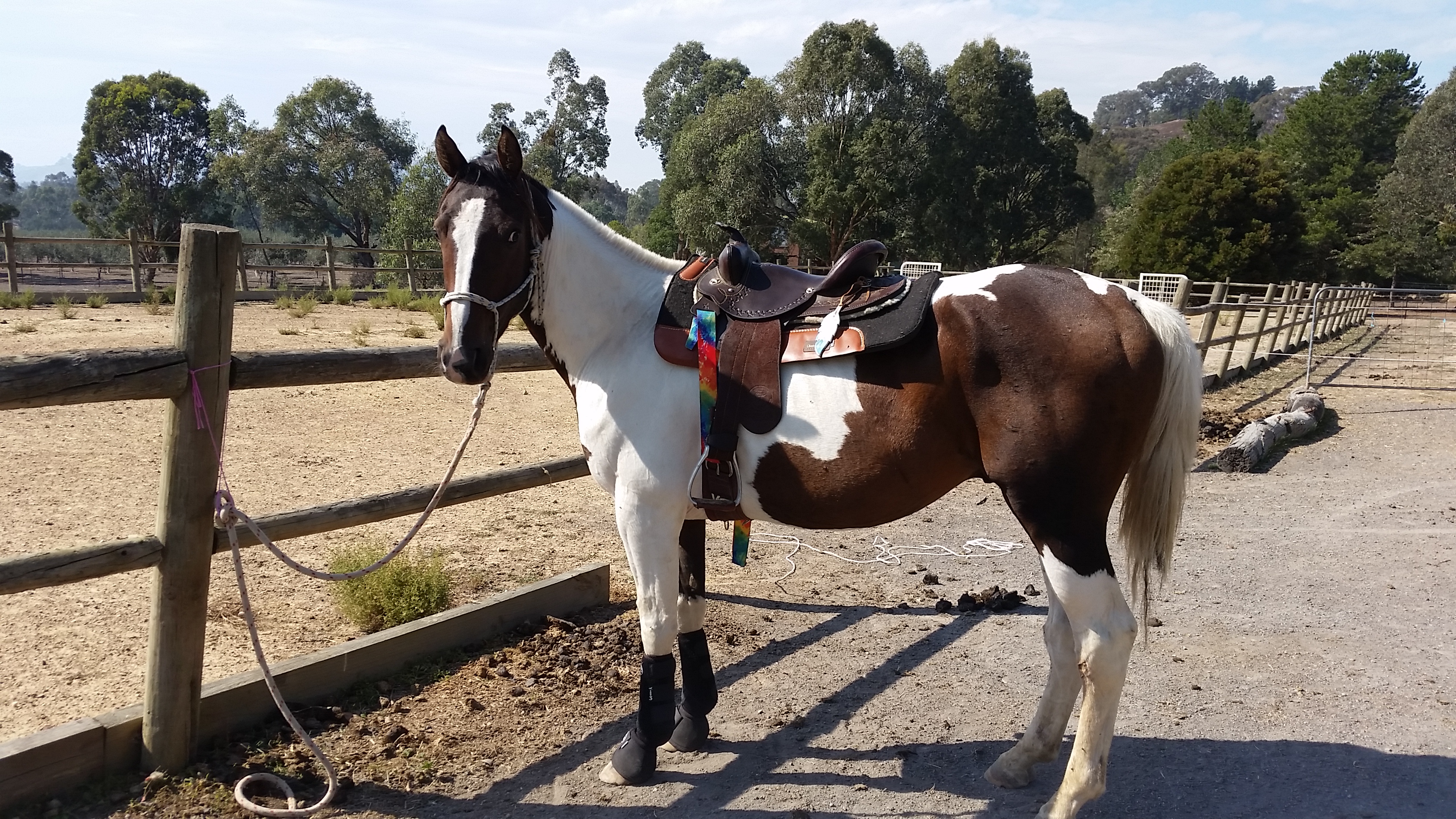 ---
---
---
Hi Trevor. Saddle received today and I'm already in love with it. Put it on my standy (an idiot) and 1 buck, 3 pig roots and 2 forward lurches later and I felt safe and sound on it. It's fantastic. Can't believe the quality. You guys are quality craftsmen indeed.
Cheers,
Annie
---
Hi James,
Thank-you so much for your wonderful customer service.
I was delighted to receive my saddle the very next day after paying for.  It arrived perfectly in tact!
Great saddle I have not ridden in but have had it on my horse & it fits like a glove. Love it!
ThanksIn advance, Teena
---
Love your work!! That's one nice looking saddle. Not looking to buy it as I have 3 originals and a household cavalry version which I use for lighthorse but I just wanted to recognise your workmanship
Keith
– Regarding the Glen Gardiner Military Saddle
---
Drajat Panjawi – Oil and Gas, mining fortune 500 executive, enjoys riding with his wife and daughter and training horses.
I purchased a beautifully carved saddle from James Saddlery that is from the Santa Supreme line from Trevor and Daniel James at James Saddlery in Brisbane.  The saddle was hand carved by Glen Gardiner.
This saddle looks amazing, a hybrid close fit Australian Stock Saddle that is extremely comfortable and well made.  The carving is unique, a one of a kind in the making.  Glen's carving is something totally different in Australia where not very many saddles are made with this type of detailed carving or design features.
Glen's carving and Trevor and Daniel's experience in making high quality saddles makes this saddle outstanding.  I also purchased a matching saddle blanket incorporating leather carving that Glen had meticulously carved by hand.
Glen's carving definitely produces one of a kind saddles of an extremely high quality coupled with James Saddlery ability to produce saddles of a similar high quality makes this saddle stand alone.  This saddle is best described as functional art, a beautiful piece of art that is robust and can do the job.  If this is the type of thing you are looking for I would not hesitate in recommending Glen and James Saddlery.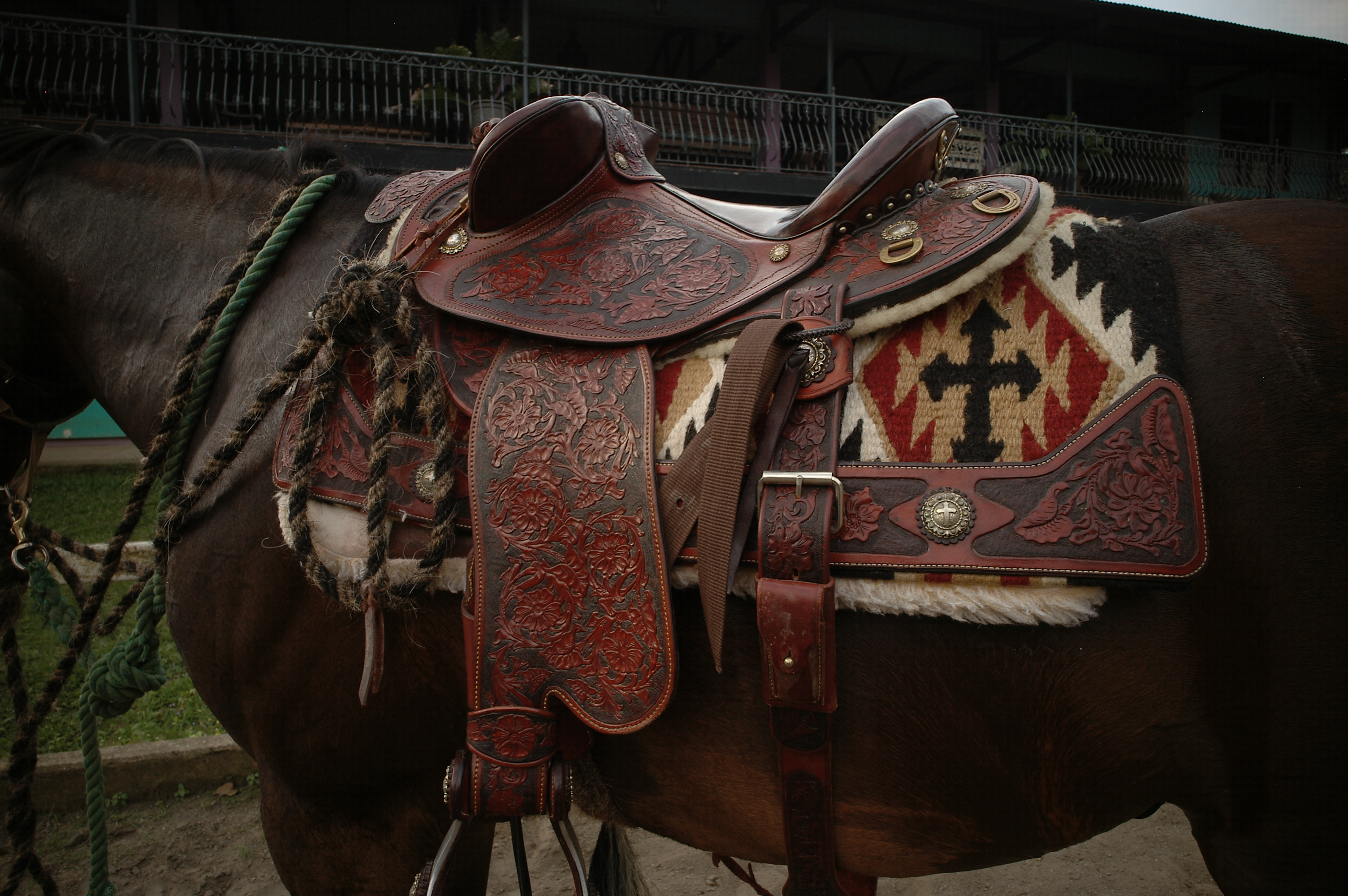 ---
Jason Hunter – Breeder, Rosehaven Walers, Committee Member, Waler Horse Society Australia – Rosehaven Walers Victoria, Australia
My name is Jason Hunter from Rosehaven Walers in Gippsland Victoria, I have been involved with horses for 35 years.  As a teenager I was part of the Gippsland Light Horse Troop attending many parades , marches and demonstrations, and where my interest in the Waler horse developed. During these years I was lucky enough to have the use of some original kit until the troop disbanded.  Since then I have focused on the preservation of the Waler horse and have been breeding Walers since 2007 and have been a member of the Waler Horse Society Australia for the last six years and on the committee for 2014/15.  In my passion for this exceptional breed my family and I have travelled the country and outback Australia in search of the true to type Walers with bloodlines tracing back to the 1930's .
Over the last two years I have become more interested in the use of the Waler in the military.  Using all of my resources I have spent countless hours trying to buy a genuine original Swivel Tree UP saddle with no success.  Attending Equitania 2014 as a part of a promotional event for the Waler I came across a reproduction military saddle.  After a very close inspection of the saddle I asked another Waler Horse member who is a very keen collector of Light Horse Kit to come with me and have a look.  They checked all the usual faults with some  reproduction saddles and could not fault the saddle and suggested that it is the best reproduction they had ever seen.
On this advice I purchased the reproduction 1912 Swivel Tree Universal Pattern military saddle that was hand made by Glen Gardiner and sold through James Saddlery.   The swivel tree saddles are extremely hard to come by and trying to find a new reproduction saddle at the same level of quality of the original is almost impossible nowadays.
However, as Glen states in his certificate of authenticity all components are crafted by hand and the leather  and wood is of a high quality with everything finished by hand.  Glen, a former Australian Army officer who at one time commanded an Army Equestrian Display Team for several years has taken the time to  polish and finish all the leather by hand.  It is obvious to see the attention to detail and commitment he has put into his work which is impressive.
Because the saddle is a military reproduction it is a bonus in my opinion that the saddle was made by a person who not only understands in detail this type of saddle but horses as well who was a serving military member familiar with military standards and expectations from a ceremonial, military skills and field  perspective.
Glen, was extremely helpful and because the horse that I intended to use the saddle on was younger, I needed a smaller girth.  This was not a problem and Glen responded to my additional requests and made a new one for me and had it shipped in a timely manner.
I have no hesitation in recommending Glen or his products which I believe are good quality and value for money.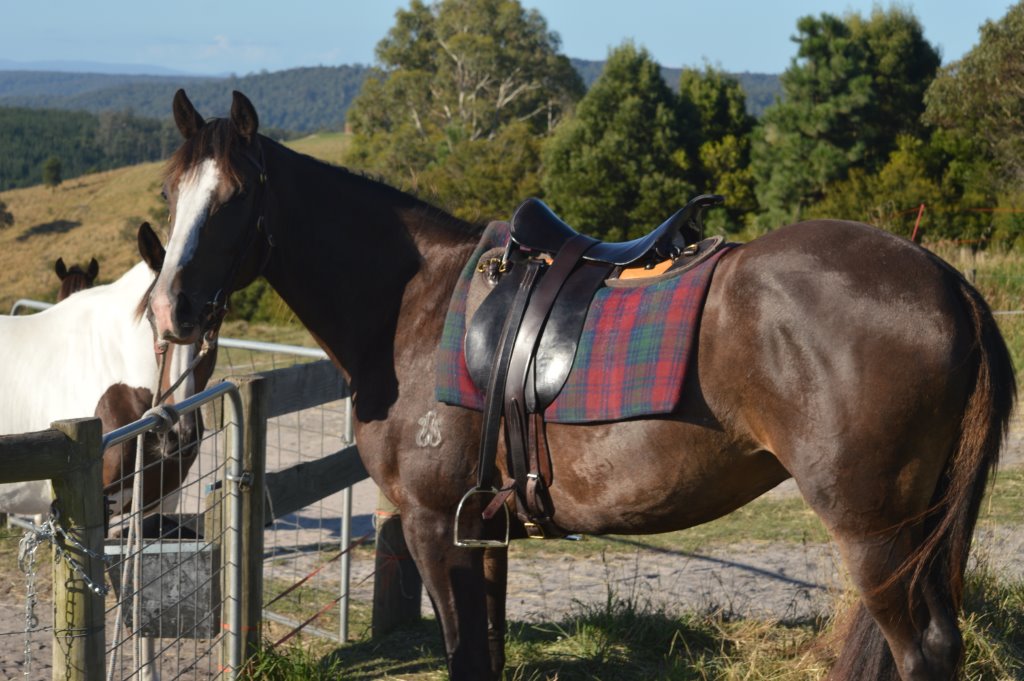 ---
To Trevor and Daniel,
Just a little feedback on a saddle I purchased from you. It was the Santa MK III made for my super wide little pony.
We absolutely love it! The horse is very happy and I am even happier! It is so comfy and I love how it lets the rider sit so close to the horse rather than perched up on top. This has allowed us to have great communication through the saddle that I haven't ever had with any other stock saddle.
And I can't tell you enough how pleased I am with your speed! To have a custom made saddle measured, ordered, made and delivered across the country all in less than a month is outstanding! I am just so so impressed!
It does look a little big on her though, as far as I know it doesn't seem to be restricting her too much. I have attached a pic anyway to show you the saddle on her. It just seem to sit right behind her shoulders but this could be because she is such a stocky horse.
I have been showing it off to everyone and all my friends and family have agreed that it is a beautiful looking saddle and so lovely to ride in. Even my significant other likes it and he is used to riding in english dressage and all purpose saddles!
Thank you so much for everything you have been wonderful to deal with and I will surely be recommending you to anyone looking for a new saddle!
Kindest Regards, Steph N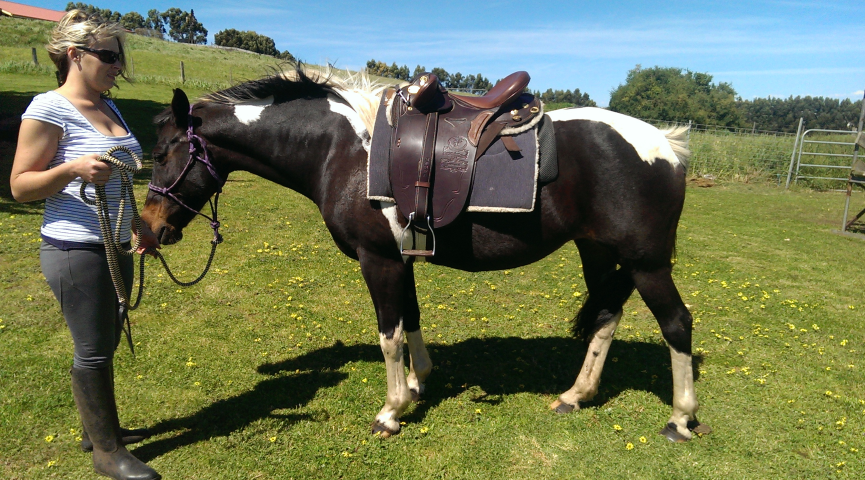 ---
Hi to every one down under.
Its been along time since we have been in touch, since I fitted all the safari horses with your saddles and it was a wonderful sight to behold all the horses in the same saddles.. I have moved on from Botswana and am now in Zambia WWW.kafuehorsesafaris.com .
My personal saddle was a great northern Half breed saddle. I wish to congratulate you on that saddle; I have put in over 6 years of riding ranging from 6 hours to 9hrs a day in it and on a range of horses. There are not enough words to describe how they have stood the test of the African bush, heat and water, well done,
Was just looking at the price of the new ones as the old one is now really worn out and looking tiered.
Have attached a few photos in the email for interest sake of horses and elephants with your saddles.
Thanks
Steven rufus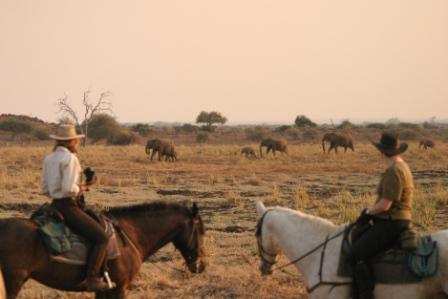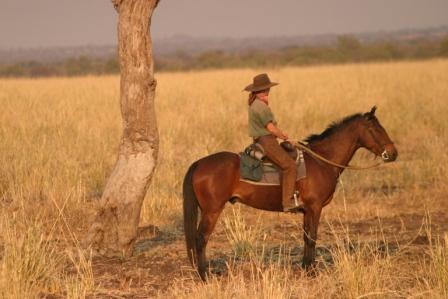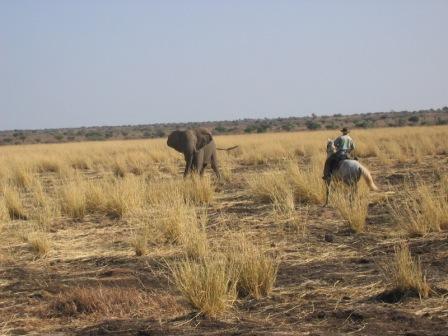 ---
Dear Trevor and Bev:
I LOVE MY NEW SADDLE!
Oh, my gosh! I know you're a day ahead of my West Coast Time Zone and it's Saturday in Australia now. But if it weren't …I'd call you and you could hear the catch in my voice as I tell you that today, I rode two horses, back-to-back, walk-trot-canter, up and down hills —and when I dismounted my knees still felt great! My back felt great! My horses felt great! Trevor, this is amazing! This is the saddle of my dreams! It's honestly better balanced and more comfortable than many of the (expensive) dressage saddles I've ridden in over the years! (I was worried that an Aussie would prop me into a "chair-seat" but you constructed my saddle so that it drops me into that sweet spot of balance with my body position very correct and aligned — and I'm NOT FIGHTING THE TACK. I love the security of the poleys! There is no question but that I'm more relaxed (even on my spooky, zooomy Andalusian) now that I've got those Poleys there if I need them! I think every dressage rider needs one of your Aussie saddles in their tack room so they could enjoy some trail riding
Of course the saddle is beautiful too… But you already knew that!
I'm glad you told me to hang in there while the saddle "settled" the sweat marks are becoming more even now with more riding. Might still need to adjust it for horse #2 but we can discuss that when I call.
In short, I am very pleased! This was the first custom saddle I've ever ordered and it was kind of a big step. So glad I did. Thank you so much for being available to talk to me over the phone as well! I can tell you really want to make sure your clients are happy and that their HORSES are happy!
I'm ready to order saddle #2 but wanted to go over a few details before I do — I have some questions. I'll call you the first part of the week.
Thanks again,
Kris
---
I thought you would like to see my James saddle, 20+ years old and going strong. It has many hundreds on miles on it and is sound and strong as ever. The quality of leather and workmanship is superb. It fits my horse perfectly, and wasn't bought for him. His sire wore it before him. I am an endurance rider, so saddle fit and comfort, for both of us is very important. Jacinta Denton Elko, NV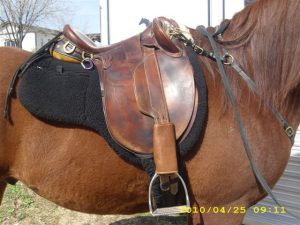 ---
Hello Trevor and your saddle making team, Bev, Daniel and your daughter, I have my saddle at home now, on its stand, and I am looking at it with such admiration. I just wanted to say a really big thank you for all your design, and effort in preparing my saddle. I really think it is a "masterpiece". Trevor, you have managed to capture "all" the bits and pieces that I talked to you about at its concept. I can't believe how you've managed it.
The two colour feature which I admired in the special saddles you made for the US market,
The emu inlay
The tooking design, is just so perfect.
The black bordering around each piece – just matches Holly's eyes. (Her eyes look like they have a permanent black eyeline on them).
I have put my gold stirrups into it, and a gold bit in the bridle. It just looks fa..b..u..l..ous!!! I'm so thrilled. Can't wait to have a test ride tomorrow. When you send down the reins and breastplate, please don't forget to send at least 10 business cards. This saddle will be admired by many!!! and I'll be more than happy to be a sales representative for you. So many thanks again, I just can't thank you enough. Kind Regards
Lorraine Newlyn , GOLD COAST, AUSTRALIA
---
ALL ARRIVED TODAY IN PERFECT CONDITION. James, we are orerwhelmed by the quality and beauty of your saddle and accessories. thank you for all youve done, the best in the future to you and your team. your a true ARTIST and CRAFTSMAN.
OUR SINCERE THANKS,
BILL AND CHRIS, NC, USA
---
Dear James Saddlery,
I retired from the Dallas Police Department here in Texas about a year ago after 26 years of service. The last ten years of my career I spent in the Mounted Unit riding a horse every day to do police work. We rode Australian Stock saddles and some of the early ones were J.S. Champion and Poley Somerset models. However, the City Government began taking low bids and later we were forced to accept much lesser quality "knock-offs" from India or Pakistan sold here in the U.S., but marketed as genuine Australian stock saddles. Very sad, indeed.
Anyway, I much preferred the sheepskin or fleece lined J.S. Champion model rather than the hair stuffed Poley Somerset. Ours were very basic black leather, with a sweat flap, suspension bars, 1-1/4″ stirrup leathers with irons, with a single overgirth. I loved this saddle and very much want one for myself.
Thank you and Best Regards,
Mark Tarver
Below we have a photo of "Rex", Mark Tarvers horse, a 17-1 Dutch Warmblood / Thoroughbred Cross who was used in the Police Force with one of the JS Champions on board!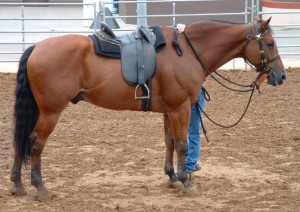 ---
Hi Trevor & Bev
We are emailing you to say once again a very big "Thank You" for our new LE Barkly Half Breed saddles. We weren't even home 5 minutes and we had our horses caught and saddled with our new purchases and they are just the greatest !! John who has ridden in nothing else but Syd Hill Barcoo Poley stock saddles for over 50 years and wasn't going to change for anybody, was absolutely dumb struck as to how comfortable and light his new saddle is. I've either had a western pleasure saddle with an equitation seat or other brands of half breeds and due to my shape I usually have some difficulty in getting a comfortable seat but with your saddle I felt at home immediately. I've attached a couple of photos for you. Bev, a special Thank You for meeting us on a Saturday morning so we could collect our saddles.
THANK YOU John & Sue Sharpe (a pair of VERY satisfied customers) 🙂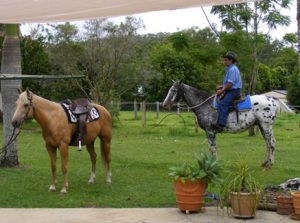 ---
IT IS BEAUTIFUL AND I LOVE IT AND WILL CHERISH IT FOREVER AND EVER AND EVER!!!! Thanks so much Bev and Trevor James.
Cathy Maready
NC, USA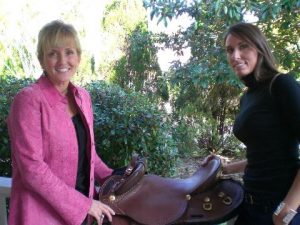 ---
Bev, Trevor,
Made the post office open up this morning. Had it out of the box before breakfast. It was definitely worth the saving up! The high gullet lets it lower itself nicely on the pad (see pic). Using my 36″ girth, I've got a pretty snug fit.
Took him around the yard in a bozal. He seems to like it — and Old Lee loves it. It's almost like riding bareback — at least 3-4″ narrower than the old western I've ridden so long. And you cut those under panels just right. The fenders give me a nice feel against his sides. Blevins buckles are great. I've always used them. And I love the "seat" — natural for this old back. The wool pad instead of the sheepskin grips the underpad better — nice solid feel.
just wrote to a horse friend that in 64 years (next month) I've experienced a good
many disappointments . . . but my Colt saddle WAS NOT one of them.
It's rare in this assembly line stamp-them-out-by-the-millions world to find persons
who are true craftsmen and take pride in what they do. I went on to college instead
of apprenticing as a saddle maker to Steve Blevins of San Angelo, my unofficial father.
I had a good life teaching, but it would be nice to know that people would be riding
my saddles long after I'm gone.
A Salute to Trevor and Daniel. I'll think of you every time I mount up.
I'm really proud :-D. Thanks for putting up with me. Thanks for such a great job.
Cowboy Lee
PS — You remembered the "L.S." on the
horn. That was a statement of faith. I knew
I'd never be selling the Colt.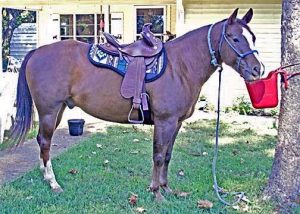 ---
Trevor James,
Greetings from Alberta, Canada. The attached photos were taken at one of our favorite places to ride. The shot at the bottom at 4000 ft. shows a Champion Camp Drafter made by you, used when I bought it, that I have had the pleasure of riding for 13 yrs. No other saddle in 60 yrs. has served me as well. Not knowing that I would need a photo to send you the other photo is at 7500 ft. is my brother on the way down from the 7900 ft. where we ride to the summer range of elk and sheep.
Sincerely, Barry Olsen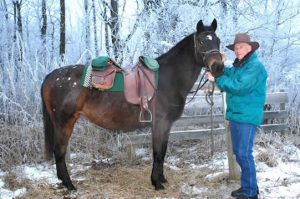 ---
Greetings,
Your website is fabulous and I am very impressed with your company. Your saddles show quality and craftmanship that is lacking in our
conventional saddles. Quality items are hard to find in this day and age. Thanking you in advance,
Jo Ellen
---
Dear Trevor:
The Northern Champion Drafter with no flap you made me is spot on…. It is very well suited as it is very deep – with a central position – it is also great when handling young horses who move very quick.
Very Happy.
All the best.
Thanks John Kah
---
Good Day,
I purchased a Trevor James, Champion Drafter saddle in 1998 here in the USA and it has saved my life many times, as I train horses and Stallions with severe behavior issues and wild horses !! Thanks Trevor for his indestructible saddle and I have found the only way out of his saddle is to stand up and jump out of it yourself ! I now find my self in Ranch Rodeo's which is very enjoyable however, hate getting out my saddle for the roping event !! Any chance of fitting my saddle with a removable horn ?? Ideas ?
R J Bilger Jr / Stallion Ranch / Round Table Friesian's
Photos of the Northern Champion Drafter on the Friesian horse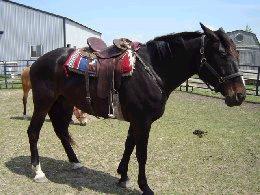 ---
JAMES SADDLERY BRISBANE
TO WHOM IT MAY INTEREST
I would like to show you my Limited Edition Midnight Drafter Sir No 359 bought by my grandfather for me 22 years ago. I broke in my first horse when I was 12 or 13 and had my last ride in it today, as I am retiring it inside the house on 22nd November, 2006 I am 35 years old. I could not guess the amount of horses this saddle has been on as I've travelled through Queensland working stations and have worked in NSW catching Brumbies for the National Parks, I have bought and sold horses and broken problem horses all my life.
I would just like to say thanks for all the memorys this great saddle has given me.
Attached are some photos.
Jason Taggart
PS: I still have the horse I broke in when I received the saddle at 12, 13.
---
Hi Bev/Trevor
I have now received the saddle and it looks great. The Sheri on the monkey grip is a nice touch that I wasnt expecting.
Many thanks,
Sheri
---
I am totally impressed, your attention to your craft shouts out above many i have seen. I have not ridden in years, but your work and your sons has me dreaming again. Others may copy, but will never get this type of reaction. Im a steel fabricator and hobby at sculpting, enjoy my trade very much and strive to keep product safe, reliable and eye appealing. I will visit this site often.
LIVE-WELL–MADMURPHY
---
Dear James Saddlery,
I felt the need to write you a quick letter and let you know how amazing your saddles are. I'm not sure how many letters like mine you've gotten but its a testament to how well your saddles are built that I'm writing you. I just had the wonderful opportunity to purchase a Used Northern Champion Drafter. Living here in the states and being that I'm a Dressage rider in Arizona you just don't see Australian stock saddles normally. If you do they are cheap varieties. I currently ride for pleasure on my thoroughbred over some pretty rough terrain and was looking for something deep seated and secure. I couldn't have been happier when I bought this saddle. Its truly amazing. I also have to say being that this is my first Australian saddle the hair stuffed panels were a lifesaver. I figured out how to adjust them and now the fit for my horse is perfect. I can't thank you enough for producing such an amazing product. This saddle will be with me for a many years and I can guarantee I'll ordering from you in Australia if I need another.
Truly Amazing…
Sincerely
Cynthia Smith
USA
---
My husband and I live on a mixed cropping and sheep farm at White Flat in South Australia. We were burnt out in the "Black Tuesday Fires" on the 11th of January, 2005. We were able to save two of our three houses, we lost 1,200 sheep, but miraculously our two horses survived. Wonderful people came from all over the state to help and give us moral support. We lost our two stock saddles in the fire. We also lost a lot of irreplacable family history and sentimental belongings in our sheds which burnt down. We decided we didnt want to give up riding and we would look for some genuine Australian Stock Saddles for sheep work, cattle later on and general hacking. We looked on the internet and found "James Saddlery" in Queensland. We went through the saddles on the webpage and rang Bev James, she was very helpful and faxed information we needed. Communication interstate was no problem. We ordered two Santa MK III Revolver, limited edition 35 years saddles as we wanted a pair of saddles. We received the saddles through Australian Post this morning and when we received the saddles we were in awe of the beautiful workmanship and craftmanship of Trevor and Daniel James. These saddles are masterpieces and are just what we wanted to have as new family heirlooms. These saddles will outlast us and be passed down to future generations. Their comfort and safety was also important to us as we havent got time to have injuries on a busy farm. Thank you to the James Family and the staff of James Saddlery. These two saddles will be treasured in the Macdonald Family.
From,
Kingsley & Wendy Macdonald
---
I run a 1200 head beef cattle property in the foothills of the main range in north east Victoria. We use horses for all mustering and some drafting. After my Barcoo Poley finally died l bought a James 'Santa Mark II' about three and a half years ago.
I have found this saddle to be very comfortable in steep country, cutting cattle or just walking along. I don't get sore even after several successive days of work and neither does the horse. The saddle sits down particularly well on the horses back and doesn't tip forward or move around like a lot of thickly padded saddles. The swinging fenders eliminate any chaffing on the inside of the knees when cutting and yet allow you to get your legs forward on steep down hill riding or if the horse decides to put his head between his knees and try your ability out.
This is an excellent all round saddle with good features adapted from western fender and English stock saddles. The new age stock saddle and l like them enough to have bought two more!
From Gary Nankervis, Corryong. Victoria.
---
Hi Bev,
Just wanted to drop you a quick note to say thank you!
The saddle is a perfect fit – I am very impressed as is my pony! I am very happy with the saddle and accessories.
Many thanks!
Tina
Rotorua, NEW ZEALAND
---
I have pronounced the Northern Champion Drafter perfect! I couldn't be happier with it. I loved my Ringer, but this saddle is amazing. I went on my first foothill cattle drive Friday and Saturday and felt right at home with all those western cowboys! The best part, of course, is that I felt safe and secure and in perfect sync with my horse. Thanks for making such a great saddle and for making sure it was just right.
Best,
Chris Wipff
CALIFORNIA, USA
---
My new Colt Special arrived yesterday. I'm 53 years old but the kid in me said we had to go to the stables and try out the new toy.
The saddle is beautiful, but more important, it fits my hard to fit Arabian with her short, wide, flat back. I can't imagine getting a better fitting saddle for her and believe me I've gone through 3 saddles (and $$$) trying. I didn't have much time to spend so all I was able to do was a little of the hated (but necessary) arena riding and the saddle was also a perfect fit for me along with being very comfortable. Also I really like the horn on this saddle, its there to hang "stuff" on but, unlike my western saddle, this horn is really out of your way for those steep uphill climbs.
Having said that, going on a few long trail rides will really tell the story about fit and comfort for me and my horse, but my experience with other saddles tells me this one is going to be great and just what I want for my informal trail rides with family and friends.
I'll be entering a competitive trail ride in a week on a relatively short 20 mile one day event. If I had some "trail miles" with my new saddle I'd probably use it but I do have one other, lighter synthetic western saddle which I'll be using that fits my horse and has proven to me that it is good for me and my horse on long rides. That western saddle isnt the best for competitive trail, especially the placement of the horn. Next spring I'm planning on buying another, lighter endurance type saddle, but unlike most competitive trail riders, I prefer a horn. I'm going Aussie with that future purchase and I'll be talking to you then (Probably at the Equine Affair in Columbus, OH).
Les Gruseck
CALIFORNIA, USA
---
I am an experienced leather worker and I have bought strapping and harness goods from James Saddlery, Tamworth.
The quality is excellent and the prices are extremely competitive.
John Kermode
NSW, AUSTRALIA
---
Dear Mr James,
I bought a Santa MK III at Warragul Field Days, March 2000.
It has been fantastic. I can ride very close to the horse in the Santa MK III and the horses are very responsive to my leg and seat movement.
Jim Quilford
WANTHAGGI, VIC
---
Dear Trevor,
A very big thank you for my saddle. I am very happy with the "Ord River" and loved where you have put my name on it.
Special Thanks,
Angelique James
WELSH POOL, VIC
---
Trevor
I've been at a journey for a while. But I've received the saddles and I´m very satisfied. I've already tested out Santa MK III on my horse, and it suits perfect. (I have a Norwegian fjord-horse, a kind of wild horse, perfect for riding in the mountains). This is the best saddle I've ever had. And my horse is also very satisfied. Santa MK III has a very good stability and balance, and when my horse suddenly got crazy in a gallop and made a lot of jumps, the kneepads saved me from falling off the horse. The handcraft and materials in the saddle is the highest quality. Every rider should be proud of owning such a saddle. I will never go back to my old western-saddle!
Morten K
---
The Santa MK III Super Duty with horn. Square Skirt Style. This saddle was made by Trevor James for Keith Badior of NSW. Keith has been involved in Rodeo work for many years and around 11 years ago was involved in a serious rodeo incident where he suffered a broken pelvis and hip. His hips remain out of alignment.
Keith was told he would never ride again. According to Keith "That didn't last long". He had a Santa MK III and after a short time found he could ride comfortably. He customised that saddle himself to adapt it to his rodeo work. He contacted Trevor James to make him a brand new one. His son had liked Keith's saddle so much that Keith couldn't get to use it.
So Keith is back in rodeo in his new Santa MK III, designed for his own needs. Keith says, "If it weren't for the superb comfort and strength of the Santa MK III, the doctors would probably have been right", he would never have been able to ride again.
Keith has just ordered a third Santa MK III, he says his rodeo mates just love that SANTA MK III.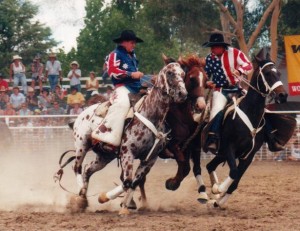 ---
The US Border Patrol, for the first time in it's 100 year old history, has broken with tradition and is mounting patrol horses with Australian Stock Saddles, built by Trevor James of Brisbane.
The saddles are the new fleece lined half breeds developed by James for the market in America, where his product is distributed exclusively by The Australian Stock Saddle Company, of Malibu, California.
The first saddles have been tested in San Diego, and there are plans to mount the entire border.
After three months of working in the saddles, Supervising Agent Chris Mangusing reported: "We LOVE these saddles. They have made a big difference to the comfort of the horse and the rider. We haven't had a single horse galled and we've been riding them hard for months."
Border Patrol agent Greg Davis says he was impressed with the safety of the saddles. "I was opening a training school, and for some reason my horse bolted, and then propped at a full gallop."
"In this Australian saddle, I slammed into the kneepads, and was thrown back into the seat. In my Western saddle, I would have been gone, gone!! And that would not have looked pretty in front of a full class."
Still, it took some adjustment for the agents to accept a free swinging fender, and the unique forward position in which the Australian Stock saddle places a rider at the hand gallop.
"But now," says agent Davis, "I don't even like riding my Western Saddle. The Aussie saddle is definitely more suited to this kind of hard riding in rough country – which we do mostly at night."
Australian Stock Saddle Company President Colin Dangaard – who competes cross country and steeplehase in California – because interested in the Border Patrol after riding with them in 98.
He says: "We galloped through heavy scrub, at night, chasing people who were crossing the border illegally, at San Diego. We'd round them up, handcuff them, put them in buses, and they were deported back to Mexico."
I was amazed at how this type of riding reminded me of chasing cattle in North Queensland, where I am from. Hard gallops for short distances over whatever you come across."
"Right there I decided these guys needed Australia Stock Saddles – not heavy, bulky Western style saddles, more suited to roping than flying through the bush."
Agent George Boone was the first on the US Border Patrol to use an Australian Stock Saddle – and he purchased his privately several years ago.
He say: "I've ridden that saddle on my horse eight hours at a time, night after night, and never had a problem. It is so good I could not think of riding anything else. You are one with the horse, kind of floating there at the gallop, which we do a lot, on very rough country."
"I've wanted this saddle in our unit from the first time I rode it. I am happy it is finally happening."
Agent Clay Dissler, who trains horses for the Border Patrol, was equally relieved with the new Trevor James Robinson Drafter Saddles.
"They are safer. They are easier on the horse, I am very happy we are breaking with tradition. It will make a big difference to the men, and the horses."
Supervising Agent Ernie Granillo says: Anything that makes our job easier, makes me happy. I do not like to see the horses hurt. I like the idea that we are able to measure each and every horse, and have them custom made specifically in Australia. I'm impressed!!"